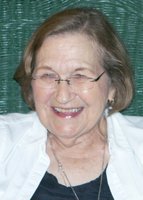 Katie C. Damron
Katie Damron was born Laura Kathryn Combs in Betsy Layne, Kentucky on November 12, 1928. She was the daughter of Hettie Giliam Combs and Albert Ghent Combs, the fourth of five children. She attended Pikeville College Academy and Pikeville College. Katie moved to Sumter, South Carolina in 1953, where she co-managed WSSC radio. She worked for Santee-Lynches Planning Council in the 1970s, as well as for Sumter County. She was active for many years in the Episcopal Church of the Holy Comforter, where she worked with youth programs and served for a time as Director of Christian Education.
Katie is best known for work as director of the Sumter Little Theatre, which was a large part of her life from 1955-2009. She developed the theatre´s youth program and became a second Mom to scores of children who credit her for helping them learn self-expression, increase self-confidence, and develop talents. She has directed well over one hundred plays, including many new works, and was given permission to do the premier amateur production of August Wilson's Fences. She never shied away from work that challenged audiences to think.
The arts were always the center of her life.
Katie loved to laugh and to argue politics with you. She loved her extended family (including the many children and adults she taught), her best friend Essie Mae Clark, her cat Pumpkin, and her adopted hometown of Sumter.
In 2014 the S.C. Legislature passed a resolution "congratulating and thanking Katie Damron for her decades of amazing contributions to the cultural life of Sumter" and a commemorative celebration of Katie's achievements was given at Patriot Hall.
Katie is survived by her three children, Pam Damron Knight (husband Henry F Knight) of Keene, NH, Carla Damron (husband James R Hussey) of Columbia, SC and Ed Damron (wife Vidisha Mallik) of Malmoe, Sweden; her four grandchildren, Paul Knight, Laura Knight, Vincent Mallik Damron and Anja Mallik Damron, as well as two great grandchildren, Parker Knight and Brady Knight. She is also survived by her sister Edith Mae Stanley and was predeceased by brothers Ghent, Dan Jack, and Sam Paul Combs.
Memorial services will be held at 1 P.M. Saturday at the Church of the Holy Comforter in Sumter with Rev. Marcus Kaiser, Rev. Charles Walton, and Rev. Cynthia Taylor officiating.
The family will receive friends following the service in Walker Hall.
In lieu of flowers, donations may be made to the Sumter Little Theatre, 12 Mood Ave. Sumter, SC 29150 or to Doctors Without Borders, USA, PO Box 5030 Hagerstown, MD. 21741-5030, www.doctorswithoutborders.org
On-line condolences may be sent to www.sumterfunerals.com
Elmore Hill McCreight Funeral Home and Crematory is in charge of the arrangements. 803-775-9386.