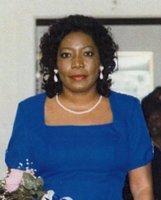 Patricia Ann Jackson
Patricia Ann "Pat" Jackson, 60, wife of Jerry Dean Ward, passed away Wednesday, November 15, 2017 at Palmetto Health Tuomey Hospital in Sumter, SC.
Born in Sumter, to the late Paul Cooper and Georgia Mae Jackson, Pat was a graduate of Mayewood High School, received a Bachelor's Degree from Allen University and went on to get a Master's Degree in Social Work. Patricia previously worked at the G. Werber Bryan Psychiatric Hospital in Columbia and recently retired from Santee-Wateree Mental Health as a Chief Mental Health Counselor. She was a member of Bethesda Church of God in Sumter.
Surviving, in addition to her husband, are two brothers, Sammie Jackson (Mary) of Columbia, and Randall Jackson of Sumter; three sisters, Sarah Jackson of Sumter, Gloria Jean Jackson of Mayesville, and Geneva Durant of Mayesville; two aunts, Elouise Thomas of Baltimore, MD, and Carrie James (Anthony) of Sumter; nieces and nephews; Charleeshia Jackson, Tamekia Alston (Derrick), Kevia Jackson.Fredrick Durant, Kahlil Wells, Jazsmine Jenkins, DeArrius Durant, Isaiah Jackson, and Erickson Jackson (Latrell); a host of special cousins as well as great nieces and nephews and devoted longtime friends.
Memorial services will be 1:00 P.M. Tuesday, in the chapel of Elmore Hill McCreight Funeral Home, with the Reverend Neal DuBose officiating.
The family will receive friends from 12:00 until 1:00 P.M. Tuesday, prior to the service at the funeral home.
Special thanks to the staff of Elmore Hill McCreight Funeral Home, Betheseda Church of God, Palmetto Health Tuomey Hospital staff, friends, and family who gave of their time in visits, calls, and prayers. Your love and concern for our beloved "Pat" is sincerely appreciated. Please continue to be in prayer for the Jackson / Ward family.