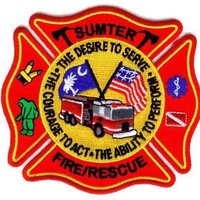 Doug "Doug" Mathis
Raymond Douglas Mathis, 65, husband of Debbie Quinn Mathis, died Wednesday, Jan. 10, 2018, at Palmetto Health Tuomey. He was the son of the late Lester A. and Fannie Mae Weatherly Mathis. He is survived by his wife; his son, Stephen Douglas Mathis of Las Vegas, NV; a sister, Valerie Wilkes of Sumter; two nieces, Megan Wilkes of Las Vegas, NV, and McKenzie Quinn-Barnett of Charleston; a sister-in-law, Traci Quinn of Sumter; a brother-in-law, David Quinn (Kelly) of Pickens; and his cherished dog, Bogey. He was pre-deceased by a beloved brother-in-law, Grady Lee Quinn.
Doug was born on March 18, 1952. He attended Edmunds High School and graduated from Thomas Sumter Academy and received an Associate Degree in Fire Science and Criminal Justice from Central Carolina Technical College. He became a firefighter in 1972 and worked his way through the ranks of Firefighter II, Lieutenant, and Captain. He became the Assistant Fire Chief in 1991 and Fire Chief in 1999, the position he held until his retirement in January 2002. He returned to the department as Assistant Fire Chief in March 2002 and again retired in 2014.
Doug was recognized for obtaining new fire engines, a rescue truck, rescue tools including the "Jaws of Life", SCBAs for the county, individual masks for all volunteers, and AEDs for front running trucks. He received the American Legion Certificate Accommodation for Firefighter of the Year award twice in his career. He was also a member of the SC Firemen's Association, the International Association of Arson Investigators, SC State Fire Chiefs, and the National Fire Protection Association.
Firefighting and rescue work were his life's passion. He was very dedicated to the fire service and in protecting the lives and property of the citizens of Sumter County. He also fought diligently for the welfare of the Volunteer firefighters.
He was known for his compassion, his mentorship, his dedication to all those called to serve, his desire to help others and his ability to make people feel valued and cared for. He was a friend to all, someone who knew that love is a verb, a man who gave generously of his time and was always willing to help those in need. He gave the best bear hugs, and everyone who got one knew he'd always protect them.
He was a member of the Sumter Cruisers car club of Sumter and of the South Carolina chapter of The Hooligans and was a staunch supporter of Easter Seals.
The family will receive friends from 11:30 A.M. to 1:00 P.M. Saturday at Grace Baptist Church.
Funeral services will be held at 1 P.M. Saturday at Grace Baptist Church with Dr. Steve Williams and Rev. Steve Shumake officiating.
The Firefighters Honors will be held following the funeral service on the front lawn of Grace Baptist Church.
Pallbearers will be representatives of local car clubs, Todd Touchberry, David Marcella, Billy West, Richard Harrington, Ken Burdick and Wade Hodge.
Honorary Pallbearers will be members of the Sumter Fire Department.
Memorials may be made to Easter Seals of South Carolina, P. O. Box 5715, Columbia, SC 29250 or to the Jeff Chavis House in care of the Southeastern Firefighters Burn Foundation, 3614 J. Dewey Gray Circle, Building C, Augusta, GA 30909 (for families of burned victims).
On-line condolences may be sent to www.sumterfunerals.com
Elmore Hill McCreight Funeral Home & Crematory, 221 Broad Street, Sumter, is in charge of the arrangements (803) 775-9386.