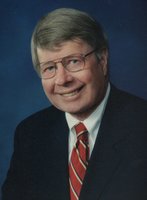 Rex Allen Deaton
Rex Allen Deaton, 88, died peacefully in Sumter, South Carolina on January 19, 2018.
Rex was born on November 29, 1929, in New Salem, Texas, the second of three sons of Mathew Lee and Vada Owens Deaton. He had fond memories of the many hours he spent outdoors growing up in rural east Texas, especially daylong excursions on his beloved horse.
Rex graduated from Kilgore Junior College in Longview, Texas, then enrolled at North Texas State College. He interrupted his studies to join the US Air Force during the Korean War, completing pilot training at Bartow Air Base in Florida. While in the military, he earned a degree in international relations from the University of South Carolina.
Rex met and married his wife, Louise, while he was stationed at Shaw AFB in Sumter. During his 20-year career as a pilot in the Air Force, Rex was a mentor and role model to many of his crew members, who admired his discipline, integrity and devotion to his wife and daughters.
For most of his military service, Rex flew the Douglas EB-66, used for weather reconnaissance and electronic reconnaissance/countermeasures. He served in tactical reconnaissance squadrons based at Shaw and a number of locations overseas, including England, France, Thailand and West Germany. In 1965-66, Rex flew missions over Vietnam, gathering electronic intelligence and providing protection for bombing missions by jamming enemy radar systems. He was awarded the Distinguished Flying Cross for heroism when he thwarted North Vietnamese efforts to capture a downed fellow pilot.
After his retirement from the Air Force, Rex had a second career in Atlanta as a real estate broker. In 1994, Rex retired a second time, and he and Louise moved to Sumter, SC. Until recently, they spent their summers in Blowing Rock, NC.
A talented artist, Rex enjoyed painting all of his life, and in the late 1990s, he turned a favorite hobby into a third career, painting portraits, landscapes of low country South Carolina and the Blue Ridge Mountains, and scenes from his travels in Asia and Europe.
Rex is survived by his wife, Louise Boyle Deaton; daughters, Katherine Hunter Deaton, M.D. and Mamie (Mimi) Deaton Arnold; Mimi's husband, Marks; grandsons Charles Craft Lucas IV, Rex Hardin Robinson Lucas and William Pearson Walker Lucas; younger brother, Joel Keith Deaton; and Joel's wife, Genie. He was predeceased by his older brother, Lee Owens Deaton.
An extraordinarily kind and gentle man, Rex was beloved by all who knew him. His family is grateful to Leola Sessions and the staff at Covenant Place, who so capably cared for Rex during the last few years, and to Ron Flax, for his invaluable assistance, friendship and support.
A service celebrating Rex's life will be held at the Church of the Holy Comforter in Sumter, SC at noon on Tuesday, January 23rd.
The family will receive friends immediately following the service in the church Parish Hall.
Private Burial will be held at Sumter Cemetery.
Memorials may be made to Blowing Rock Art & History Museum, 159 Chestnut St, Blowing Rock, NC 28605; or Sumter Gallery of Art, PO Box 1316, Sumter, SC 29151.
On-line condolences may be sent to www.sumterfunerals.com
Elmore Hill McCreight Funeral Home and Crematory, 221 Broad St. is in charge of the arrangements.
803-775-9386.