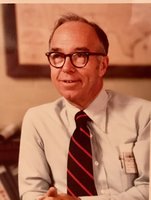 Ross Scott McKenzie, Sr.
Ross Scott McKenzie, Sr., 102, of Sumter, SC, passed away on Friday, January 26, 2018 at Palmetto Tuomey Health after a brief illness.
He was born on May 26, 1915, in Congaree, SC., the son of Ross and Cornelia McKenzie.
After graduating from the University of South Carolina in 1936, Ross worked at Allied Chemical
in New Jersey where he met his future wife, Margaret Satchwell "Satchie" McKenzie. They
were married for 54 years until her death in 1995.
After serving as a Naval officer in WWII, Ross returned to Sumter where he worked at Southern Coatings for the balance of his career and became President of the company. Ross led a life devoted to his church, community, business, and family. His leadership in promoting the Sumter County Museum was especially important to him. He was also a lifelong member of Sumter Rotary Club where he was honored as a Paul Harris Fellow. Other accomplishments include serving as Chairman of the Sumter County Chamber of Commerce, Covenant Place founding board, Sumter County Historical Society, Central Carolina Technical Foundation Board, and the Fortnightly Club. Ross was also a recipient of the Palmetto Award.
As a member of The Church of the Holy Comforter, Ross was recognized as a Senior Warden
Emeritus, served in leadership roles throughout the Diocesan level of the church, was on the
board of Still Hopes Episcopal retirement home, and also remained active at St. John's
Episcopal Church in Congaree.
Ross was well known in Sumter for his love of growing amazing roses which he gladly shared
with everyone. His favorite variety was "Peace," and he could often be found working in his
beautiful rose garden even on the hottest Sumter day. Ross was always a gentleman who
valued his many friends and loved his family above all. He was truly a member of the Greatest
Generation. He spent each of his 102 years filled with a love of books, history, and always
learning just a little more.
In addition to his beloved wife Satchie, Ross was preceded in death by his daughter, Jane
McKenzie Beebe; his sister and brother-in-law, Polly McKenzie Norris (Scotty); and his second
wife, Martha Stoudemire Hogan McKenzie.
He is survived by his son, R. Scott McKenzie, Jr. (Dianne) of Isle of Palms, SC.; his son-in-law, M. Reid Beebe, Jr., of Spartanburg; his grandchildren Connie McKenzie Whitt (Shawn), Hamilton Davis, Lauren Davis Ronk (Travis), Heather McKenzie Hutto, Kenneth Earl McKenzie, M. Reid Beebe III (Robin), Margaret Beebe Hall
(Andy), and Ross Ingram Beebe (Collins). He is also survived by seventeen great
grandchildren.
Funeral Services will be held 12:30 PM Tuesday at the Church of the Holy Comforter.
The family will receive friends from 11:00 - 12:15 Tuesday in the Parish Hall at the Church of the Holy Comforter.
Private burial will be held at St. John's Episcopal Church in Congaree, SC.
In lieu of flowers, memorials may be made to Church of the Holy Comforter, 213 N. Main St. Sumter, SC 29150, or to St. John's Episcopal Church-Congaree, 1151 Elm Savannah Rd. Hopkins, SC 29061 or the Sumter County Museum Foundation, 122 N. Washington St. Sumter, SC 29150.
On-line condolences may be sent to www.sumterfunerals.com
Elmore Hill McCreight Funeral Home and Crematory, 221 Broad St. is in charge of the arrangements. 803-775-9386.