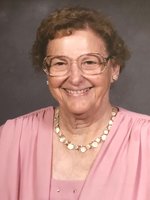 Agnes O. Greene
Agnes O. Greene, 97, widow of Lynn W. Greene, died Thursday, February 8, 2018, at National Healthcare Center.
Born in Lake City, Florida, she was a daughter of the late Elmer Overholts and Lula Ketchum Overholts.
Mrs. Greene was a retired teacher. While teaching at Pembroke State University in NC, she was a representative of the U.S. in Vocational Education to Europe and the Soviet Union in 1976. She was a member of the National (Home) Economics Association.
She served in Methodist Churches where the military sent her family.
Locally, she was a member of the Board of Realtors, the Newcomers Club, and the Genealogical Society.
She leaves behind a daughter, Mary (Eugene) Finkbeiner of Sumter; a son, Lynn "Sonny" Greene; a granddaughter, Bethany (Jonathan) God; grandchildren, Jonathan "J", Jenna, Abby and Lydia of PA; a step-grandson, Scot (Yolanda) Finkbeiner, Gene (Tami) Finkbeiner and family of Sumter; a nephew, Buddy Renfroe of FL; a niece, Mona Grinstead of FL; a special friend "like a son", Steve Sutton of NC.
In addition to her husband and parents, she was preceded in death by a brother, Clayton Overholts; a sister, Edna Renfroe; a lifelong friend, Leona Harden; and her son-in-law, Jon C. Call.
Funeral services will be held at 3 P.M. Sunday in the Chapel of the Elmore Hill McCreight Funeral Home with Pastor Jonathan C. God officiating.
Burial will follow in the Evergreen Memorial Park Cemetery.
The family will receive friends from 2 P.M. to 3 P.M. Sunday at the Elmore Hill McCreight Funeral Home.
Online condolences may be sent to www.sumterfunerals.com
Elmore Hill McCreight Funeral Home & Crematory, 221 Broad Street, Sumter, is in charge of the arrangements (803) 775-9386.