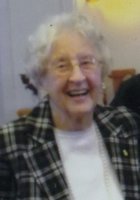 Katherine Price "Katie " Shirer
Katherine "Katie" Price Shirer, 95, passed away peacefully at Covenant Place of Sumter, SC on Friday, February 16, 2018.
Born in Arcadia, Florida, she was the daughter of the late Dayton C. Price and Willie Belle Todd Price.
Katie was a member of McLeod Chapel United Methodist Church of Rembert, S.C., until 2007 when she moved to Wesley Commons in Greenwood, S.C., and became a member of Main Street United Methodist Church.
Katie served with the Women's Army Auxiliary Corps during WW2, she graduated Cum Laude from Scarritt College, with a degree in Social Science. Katie spent some time as a secretary for Trinity United Methodist Church in Sumter SC. Katie was an active member in her church and McLeod Chapel UMW. She loved square dancing, gardening and volunteering at Kershaw County Medical Center. Katie spent many years teaching for Sumter School District 2 and working with the Literacy Programs of Sumter County.
Katie was a loving mother and grandmother. Her life's treasures were her family whom she loved spending time with.
Katie is survived by two children, daughter, Julie Shirer Pollard and husband Daniel of Myrtle Beach, and son Donnie P. Shirer and wife Renee of Rembert, five grandchildren, and nine great grandchildren, sister-in-law, Georgia Price of Cumming, GA, nieces and nephews.
She was predeceased by her husband, Samuel W. Shirer and brother, Thomas C. Price.
A Graveside service will be held at 11:30 A.M. Monday at Bethesda Methodist Church, Highway 261, Rembert, SC with Pastor Marcus Johnston officiating. A "Celebration of Life" reception will be held at McLeod Chapel United Methodist Church in Rembert following the graveside service.
Honorary pallbearers will be Tommy Moore, Tommy Dennis, Robert Robinson, James Dennis and Jamie Kendall.
Memorials may be made to the Bethesda Cemetery Association, 6310 Catchall Road, Dalzell, SC 29040.
On-line condolences may be sent to www.sumterfunerals.com
Elmore Hill McCreight Funeral Home & Crematory, 221 Broad Street, Sumter, is in charge of the arrangements (803) 775-9386.