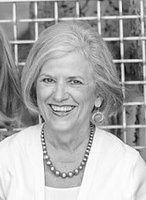 Johnnie Livingston
Johnnie S. Livingston, 75, passed away peacefully at her home on February 17, 2018.
Born on December 9, 1942, and raised in Bellefontaine, Mississippi, she was the daughter of the late William Perry and Mary Russell Spraberry. She was a long time resident of Sumter and a much beloved wife, mother, grandmother, aunt, teacher, and friend.
Johnnie was a graduate of the Mississippi State College for Women and received her post-graduate degree from the University of South Carolina. She passionately served as a school teacher for over 40 years, the majority of which was in the Sumter County school district. After she retired, she enjoyed spending countless hours with her grandchildren, volunteering for various organizations, knitting and gardening. She was also a dedicated member of St. Anne's Catholic Church. Johnnie will be remembered for her selfless dedication and generosity to all those around her.
Surviving are her husband, Carlisle Vance Livingston, Jr., two sons, Carlisle Vance Livingston, III (Lindsey), and Joshua Woods Livingston (Rankin), both of Columbia; three grandchildren, Carlisle Vance Livingston, IV, Madeline Lewis Livingston, and Mary Russell Livingston; her sister Elizabeth Kay Vance (Leon) of Southaven, MS, and a brother Robert Perry Spraberry (Pat) of Duck Hill, MS, all of whom she loved dearly.
Funeral services will be held at 11 A.M. Wednesday at St. Anne's Catholic Church with Rev. Giovannie Nunez, CRM officiating.
A private burial will follow.
The family will receive friends from 5 to 7 p.m. on Tuesday evening at the Elmore Hill McCreight Funeral Home.
Honorary pallbearers will be her beloved nephews.
In lieu of flowers, memorials may be made to Wilson Hall School, 520 Wilson Hall Road, Sumter, SC 29150; United Ministries of Sumter County, PO Box 1017, Sumter, SC 29151; or to a charity of one's choice.
Elmore Hill McCreight Funeral Home & Crematory, 221 Broad St., Sumter, is in charge of the arrangements, 775-9386.