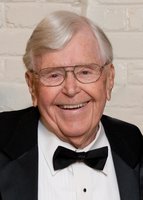 Charles Randolph McCreight
Charles Randolph McCreight, 91, husband of Margaret "Peggy" Short McCreight, died Saturday, March 24, 2018 at NHC in Sumter
Born in Columbia, he was a son of the late Robert Gilman McCreight and Edith Koenecke McCreight.
Mr. McCreight was a member of Westminster Presbyterian Church. He enlisted in the Army Air Corps Aviation Cadet Program during World War II and was discharged in 1946. He was a graduate of Clemson College, Class of 1951, with a BS Degree in Architecture. He was a registered practicing architect for over 60 years in Sumter, a founding partner of Demosthenes, McCreight & Riley, AIA., leaving his style of architecture all over Sumter and South Carolina. Charles loved practicing architecture. He was a member of the South Carolina Chapter of American Institute of Architects. He was a Charter Member and a former Chairman of the Clemson Architectural Foundation.
Since coming to Sumter in 1952, Charles gave of himself unselfishly to countless church, community, and civic organizations, serving on a wide range of committees, volunteering his time and efforts. He loved Sumter and was proud to be a part of its Industrial Development through the years. He believed Industrial recruitment was a life line for Sumter's growth and success.
Charles was a former chairman or past president of the following committees: the Sumter City-County Planning Commission, the Sumter County Industrial Development Board, the Sumter Junior Chamber of Commerce, Greater Sumter Chamber of Commerce, the Downtown Sumter Improvement Association, Salvation Army Advisory Board, and Board Directors of the Sunset Country Club. He was also retired from the General Board of Directors of the Synovus/NBSC and was a former chairman of the Sumter Advisory Board at Synovus/NBSC.
In 1986, then Governor Carroll Campbell recognized Charles as being selected the Volunteer of the Year from the South Carolina Industrial Economic Development Association. In 2007, he was selected as the outstanding "Rotarian of the Year" of the Palmetto Rotary Club.
Charles was a life-long Clemson supporter and a true "Tiger", who loved spending time with his family. Some of his favorite times were hosting his entire family at S. Litchfield Beach for "Beach Week", a tradition he and Peggy began over 50 years ago. Charles loved aviation, and always laughed as he had his pilot's license before he had a driver's license. As a teenager in Columbia, he often rode his bicycle to the airport at Owens Field to fly his plane. Charles' greatest joy was accepting Christ as his Lord and Savior and knowing that all four of his children knew Christ.
The family is very grateful to the staff at NHC for their tender care of Charles.
Surviving are his devoted and loving wife Peggy, of 66 years of Sumter; two daughters, Cathy Hall (Dan) of York, Nancy McCreight of Sumter; two sons, Randy McCreight (Marian) of Greenville and Bobby McCreight (Karen) of Sumter; nine grandchildren, Charlie Hall (Elizabeth), Daniel Hall (Kelly), Jeannie Hagopian, (Jesse), Margaret Austin (Thomas), Martin McCreight, Claire McCreight, Ann Elizabeth McCreight, Cate McCreight, and Sarah McCreight;
14 Great-grandchildren; numerous nieces and nephews.
He was preceded in death by two sisters, Margaret McCreight Farr and Betty McCreight Garnett and a brother, Robert Gilman McCreight, Jr.
Funeral Services will be held at 3 PM Wednesday at Westminster Presbyterian Church with Rev. Stuart Mizelle and Gifford Shaw officiating.
Burial will follow in the Sumter Cemetery.
Grandsons and Vic Jones will serve as Pallbearers.
The family will receive friends 1:30- 3 PM Wednesday in the Fellowship Hall at Westminster Presbyterian Church.
Memorials may be made to Westminster Presbyterian Church, 230 Alice Dr. Sumter, S.C. 29150 or to Young Life Sumter, PO Box 1141, Sumter, S.C. 29151.
On-line condolences may be sent to www.sumterfunerals.com
Elmore Hill McCreight Funeral Home & Crematory, 221 Broad Street, Sumter, is in charge of the arrangements (803) 775-9386.