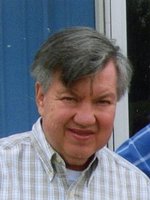 Van Steve Evans
Van Steve Evans, 69, died Saturday, February 24, 2018, in San Antonio, Texas.
Born in Kingstree, SC, he was a son of the late Willie Fowler Evans and Cornelia Harrington Evans.
Surviving are a brother, Ronald Evans (Maree) of Anchorage, AK; two sisters, Margie M. Davis of Sumter and Joanne Forinash (Carlen) of San Antonio, TX; a brother-in-law, Johnny Hayes of High Point, NC; and a number of nieces and nephews.
He was preceded in death by brothers, Laverne, Ray, Iverson; sisters, Louise Morris and Geraldine Hayes.
Funeral Services will be held at 2 P.M. Saturday, April 7, 2018, in the Chapel of the Elmore Hill McCreight Funeral Home with Rev. Michael Lowder officiating.
Burial will be in the Midway Presbyterian Church Cemetery.
The family will receive friends one hour prior to the service from 1 P.M. to 2 P.M. Saturday at the Elmore Hill McCreight Funeral Home.
Online condolences may be sent to www.sumterfunerals.com
Elmore Hill McCreight Funeral Home & Crematory, 221 Broad Street, Sumter, is in charge of the arrangements (803) 775-9386.