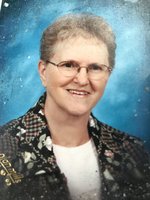 Wilma Jean Durrett
Wilma Jean Gregory Durrett, 87, died Sunday, April 8, 2018 at her home in Columbia, SC.
Wilma was born April 1, 1931 in Beaver, Oklahoma to Lela Mae Fry and Delbert R. (Dick) Gregory. The family moved to Grady, New Mexico when Wilma was 3 months old, the second of five children, Dee, Wilma, Jerry, LaVera and Joe.
When Wilma was 12, her mother died of cancer, leaving her to serve as chief Cook for a ranch of 15 workers, from then until she finished high school.
Wilma graduated from Grady High School in 1948 and attended one year at Oklahoma A&M (now Oklahoma State) in Stillwater, OK. After one year she transferred to be closer to home, and spent the next year at Eastern New Mexico University in Portales, NM.
In August 1950, Wilma married Walter E. (Ed) Durrett, Jr of Portales and they had three children, Pennie (d.1994), Mark and Peggy. After 10 years of child rearing, Wilma returned to ENMU and graduated with a degree in Elementary Education in 1962. On that day, there were five Durretts in the graduating class, Jerry, Tom, Bob and his wife Carolyn along with Wilma.
Wilma taught first grade for 25 years, two of them in Lovington, NM and the concluding twenty-three in Lake Elsinore, California. She loved to quilt and to read.
Ed Durrett died after they had been married for 49 years (1999) and Wilma married his widowed brother Jerry in 2003. They lived in Las Cruces, NM until Jerry's death in 2015. Their caregivers at that time were her daughter Peggy Stackpole, husband Don and granddaughter Christy.
Wilma moved to Columbia, South Carolina in 2015 until the present to live with her son Mark and to be cared for by his wife, Angie.
Wilma had nine grandchildren and 16 great grandchildren.
Services will be held on Friday, April 13 at 11am at Eastminster Presbyterian Church, Columbia, SC and a graveside at Portales Cemetery in Portales, NM on Saturday, April 21, 11 am.
Memorials may be made to Eastminster Presbyterian Church Music Fund, 3200 Trenholm Road, Columbia, SC 29204 or to Cal Farley's Boys Ranch, P. O. Box 1890, Amarillo, TX 79174-0001.
Online condolences may be sent to www.sumterfunerals.com
Elmore Hill McCreight Funeral Home & Crematory, 221 Broad Street, Sumter, is in charge of the arrangements (803) 775-9386.