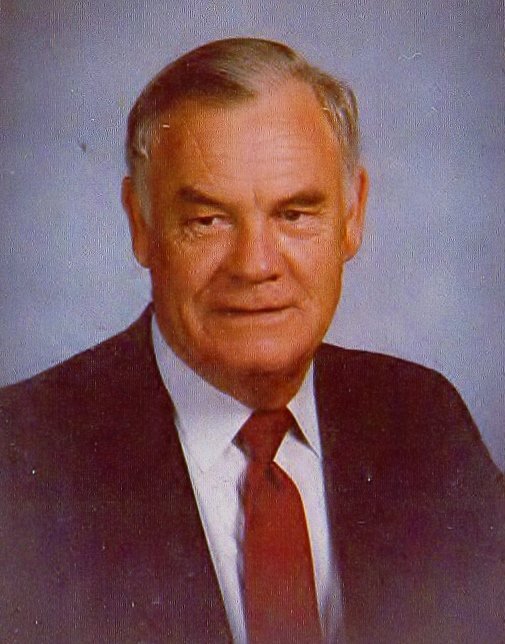 In Memory of
J. Moscoe Johnson
1929 - 2017
Obituary of J. Johnson
J. Moscoe Johnson, 88, husband of Ruth Burnett Johnson, died peacefully Thursday, May 18, 2017, at Palmetto Health Tuomey.
Born April 1, 1929 in the Shiloh community of Sumter County, he was the son of the late William David and Annie Marie Johnson.
He attended Belmont Abbey in Belmont, NC and graduated from Edmunds High School in Sumter, SC in 1948 where he participated in sports. After graduation, he enlisted in the U.S. Air Force and had his training at Lackland Air Force Base, Brooks Field, and Kelly Air Force Base in Texas. He served during the Korean War and was stationed in England. He enjoyed seeing the famous English landmarks and also the Queen Mother. After being separated from Air Training Command in 1952, he entered USC in Columbia.
He was employed with the Atomic Energy Commission in Aiken, SC before moving to Georgia as a salesman for South Georgia with Benjamin Moore & Company. In 1967, he moved back to Sumter and opened Mosco's Carpet & Floorcovering which he operated until the early nineties when he retired. Moscoe was a charter member of the Optimists in Warner Robins, GA. He was also a member of the Knights of Columbus and The Col. Matthew Singleton chapter of the Sons of the American Revolution in Sumter. Moscoe was a member of St. Anne Catholic Church in Sumter in his early years when he lived with his sister, Tillie Hill. After marrying, he and his wife joined Aldersgate United Methodist Church in Sumter in 1957 and raised their family there.
Moscoe had several farms in Sumter and Lee County where he raised timber and hunted. He had a nice pond and cabin in Lee County, which he, his family, and friends enjoyed. His joy was to see five children participate in sports and excel in their schools and colleges. He enjoyed hunting and fishing with them and also with the many grandchildren he had.
Moscoe and Ruth did much genealogy research on both sides of the family. He was a direct descendant of Elijah Johnson of Dobbs County, North Carolina who was a patriot in the Revolutionary War. Elijah moved to the New Zion area of South Carolina after the war where he was given a large land grant. Later Johnson moved to the Shiloh area of Sumter County where many Johnson descendants still live. Other family names are Frierson, Boykin, Harper, McElveen, Dickey, and Plummer.
Survivors include the love of his life, Ruth to whom he was married 63 years; children, Linda Jensen and husband John of Navarre, FL, Monty Johnson and wife Debbie of Greensboro, GA, Bill Johnson of Sumter, Michael Johnson and wife Kathy of McCormick, SC and Elizabeth Eppley and husband Chris of Sumter; 16 grandchildren and 16 great-grandchildren.
He was predeceased by brothers, Frazier Johnson, John Harper Johnson and William Byrum Johnson; sisters, Mattie Maye Horton, Tillie Hill, and Gloria Johnson Denton.
Funeral services will be held at 11 A.M. Monday at Aldersgate United Methodist Church with Rev. David Day officiating.
Burial will be at 2 P.M. Monday in the Trinity Methodist Church Cemetery in Shiloh, SC where his parents and many relatives are buried.
Nephews will serve as pallbearers.
Members of the Wesley Fellowship Sunday School class will serve as honorary pallbearers.
The family will receive friends from 10 A.M. to 11 A.M. Monday at Aldersgate United Methodist Church and other times at the home.
Memorials may be made to Aldersgate United Methodist Church, 211 Alice Drive, Sumter, SC 29150 or to a charity of one's choice.
On-line condolences may be sent to www.sumterfunerals.com
Elmore Hill McCreight Funeral Home & Crematory, 221 Broad Street, Sumter, is in charge of the arrangements (803) 775-9386.