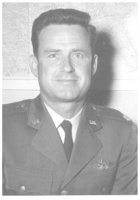 Chester B Hackett, Jr.
Graveside services with military honors for retired Air Force Colonel Chester B. Hackett, Jr., 99, of 100 Ott Road, Columbia, South Carolina will be held Thursday, September 27th at 3:00 in the afternoon in Evergreen Memorial Park, Sumter, South Carolina. Colonel Hackett died on Sunday, September 23rd.
Born September 3, 1919 in Meridian, Mississippi, he was the son of the late Fannie Yerger Julienne and the late Chester B. Hackett, Sr. He attended Spartanburg, South Carolina city schools and Clemson College, entering the U.S. Army Air Corps in June 1940. After completing flying school he remained at Randolph Field, San Antonio, Texas as a flight instructor. Following this assignment he was transferred to Gowen Field, Boise, Idaho to assist in forming the 448th Bomb Group, 2nd Air Division, 8th Air Force, subsequently leading, as Squadron Commander, the 713th Bomb Squadron overseas to RAF Seething, East Anglia, U.K., then flying B-24 Liberator heavy bombers over enemy targets. Hit by enemy fire on his 24th mission over Germany as Deputy Lead Pilot, then-Major Hackett successfully crash-landed his disabled aircraft and was interned in Germany as a Prisoner of War. He was awarded a number of decorations citing outstanding valor, flying skill and leadership ability in both war and peace. Colonel Hackett's military career included service as commander of combat squadrons in both the Strategic and Tactical Air Commands stationed at bases in Texas, Idaho, Florida, Maryland, District of Columbia, Kansas, Arkansas, Iceland, South Africa and England.
Following his retirement from the Air Force Colonel Hackett was associated with the U.S. Weather Bureau in Cleveland, Ohio, then with the University of Florida as a statistician while residing with his family in St. Petersburg, returning to South Carolina in 1982. He enjoyed all sports, especially hunting and fishing, and was noted for his ability to hit those long golf shots into his eighties.
He is survived by his wife of 71 years, Betty Beaty Hackett; three sons, Stephen Beaty Hackett, Major, USAF Retired, Columbia South Carolina and his wife, Beth and her daughters, Sara and Aliya Boozari; Roy Thomas Hackett, James Beaty Hackett, two daughters, Dr. Lynn Hunter Hackett and Betsy Julienne Hackett-Davis and her husband, Fred Shepard Davis, all of Columbia South Carolina; cousins, Reverend Charles Scott May, Atlanta, Georgia, Marietta and Paul S. Julienne, Fairfax, Virginia; brother-in-law, James S. Beaty and his family, Bluffton and Beaufort, South Carolina. Also surviving are the families of sister, Betty Hackett Smith and her husband, Arthur F. Smith; sister-in-law, Ruth H. Beaty and her husband, Wilson W. Garrison and brother-in-law, Dr. Robert W. Beaty and his wife, Alice B. Beaty. Colonel Hackett was predeceased by his parents; a daughter, Harriett Julienne Hackett; sisters, Frances Johnston Hackett and Betty Hackett Smith; sisters-in-law, Patsy H. Beaty, Ruth B. Garrison and Alice B. Beaty; brothers-in-law, Robert W. Beaty, Arthur F. Smith, Wilson W. Garrison; and cousin, John Albert Snelling.
Memorials may be made to a charity of one's choice or to the American Red Cross, an organization Colonel Hackett credited with helping him and his comrades survive while interned as Prisoners of War during World War II.
The family is very grateful for the comforting, compassionate care Colonel Hackett received from the Community Living Center and the Warriors Walk at the Dorn VA Medical Center, Columbia, South Carolina.
Honorary Pallbearers will be nephews Glen W., Lewis A., Neil O. and Arthur F. Smith, Robert H., Paul W., Lee S., Robert H., Jr. and Benjamin P. Beaty and James R. Garrison.
Also Wesley M. Blanding and Robert S. Wilson, Jr. and members of the Ex-POWs of America, Palmetto Chapter, Columbia, South Carolina
Arrangements are being made by Elmore, Hill, McCreight Funeral Home and Crematory, 221 Broad Street, Sumter, South Carolina.
The family will be at the graveside and other times at the home at 100 Ott Road, Columbia, South Carolina.
Online condolences may be sent to www.sumterfunerals.com
Elmore Hill McCreight Funeral Home & Crematory, 221 Broad Street, Sumter, is in charge of the arrangements (803) 775-9386.