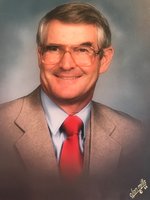 Eugene Fredrick Finkbeiner
Eugene Fredrick Finkbeiner, 80, husband of Mary A. Finkbeiner, died Tuesday, May 7 at his home.
Born in Gagetown, MI, he was the second son of Ruth Hendrix Finkbeiner Fisher and Walter T. Finkbeiner.
Mr. Finkbeiner was a member of Lighthouse Baptist Church. He graduated from Bob Jones University, as an ordained minister, and served in several Baptist churches in South Carolina. He later founded Gene's Contracting and Repair. He was always proud to have been a U. S. Marine and he loved gardening.
Besides his wife of 32 years, he leaves behind two sons, Eugene W. (Tami) Finkbeiner of Sumter and Scot A. (Yolanda) Finkbeiner of Manning; one daughter, Bethany Call (Jonathan) God, of PA; one brother, Donald H. Finkbeiner of MI; one sister-in-law, Sandra Finkbeiner of MI; one grandson, Jonathan C. (Julee) God of PA; granddaughters, Dawn E. Finkbeiner of Sumter; Kathryn R. (Jason) Bethea of Wedgefield, Elizabeth Ward (Ronnie) Stephens, Ashtin R. Finkbeiner (Bud), and G. Nicole Finkbeiner (Michael) all of Sumter, Jenna M. God, M. Abigail God, and Lydia G. God, all of PA; 6 great-grandchildren; numerous nieces and nephews.
Besides his parents, he was preceded in death by an infant daughter, Kim Ann Finkbeiner, two younger brothers, Lawrence A. and Timothy A. Finkbeiner; his stepdad, George S. Fisher; a sister-in-law, Judith A. Finkbeiner and his mother-in-law, Agnes O. Greene.
Funeral services will be held at 10:30 Saturday in the Chapel of the Elmore Hill McCreight Funeral Home with Pastor Jonathan C. God officiating. The family will receive friends 5-7 Friday at Elmore Hill McCreight Funeral Home.
Burial will be in the Evergreen Memorial Park Cemetery.
Memorials may be made to Lighthouse Baptist Church Missions Fund, P. O. Box 1751, Sumter, SC 29151.
Online condolences may be sent to www.sumterfunerals.com
Elmore Hill McCreight Funeral Home & Crematory, 221 Broad Street, Sumter, is in charge of the arrangements (803) 775-9386.