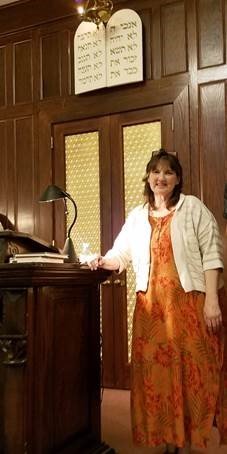 Obituary of Elizabeth Moses
Elizabeth Moses died peacefully in the morning of July 23, 2018.
Born in 1964 and a native of Sumter, Elizabeth was the daughter of Robert A. Moses and the late Harriett P. Moses.
She was a graduate of Wofford College (BS 1986) and the University of Massachusetts, Amherst (MS 1995). She spent the first two decades of her professional career working with marine life. This included positions at Sea World and the New England Aquarium as well as wildlife observations of whales and dolphins on a number of federally-sponsored research cruises. She was at sea in the North Atlantic, the Gulf of Mexico, and the Eastern Tropical Pacific. Elizabeth had many other interests which led to new careers, including writing, editing, photography, and transcription. She was a longtime member of the Jewish Historical Society of South Carolina, and worked for the Jewish Heritage Collection and the Jewish Studies Program at the College of Charleston. She spent ten years with the South Carolina Parks Service as an interpretive ranger with historic houses. Most recently she began a new job at the Sumter County Museum, which she dearly loved.
Throughout her life Elizabeth met many wonderful people and made many friends. She loved to travel, near or far, and was grateful to her family for the opportunity to visit Pawleys Island, the North Carolina mountains, Canada, and Ireland. On her own, she travelled to Panama, Mexico, and Scotland. She considered the trip to Scotland in 2014 the best trip of her life.
She is survived by her father, Robert A. Moses and his wife Clara G. Moses; her sisters, Natalie Moses (Douglas Klaucke), Carol Moses (David Vasconcelos), Katherine Royer (Brad Royer), and Laura Moses; her niece, nephews and great nieces and nephews as well as her uncle and aunt, Herbert A. and Annabel Moses, and many cousins.
In accordance with Jewish tradition, Elizabeth will be buried in the Jewish Cemetery in Sumter. Only family will be in attendance.
A Memorial Service will be held at Temple Sinai in Sumter at 1:00 pm on Wednesday, July 25.
The family will receive friends following the memorial service at the Sumter County Museum Heritage Education building in McKenzie Hall.
The family wishes to acknowledge the compassionate care provide by the cardiology and palliative care staff of MUSC, Charleston.
Donations can be made to the Sumter SPCA, 1140 S. Guignard Dr., Sumter, SC 29150, to Temple Sinai Jewish History Center, P. O. Box 1673, Sumter, SC 29151, to the Jewish Historical Society of South Carolina, (JHSSC), 96 Wentworth St., Charleston, SC 29424, to Temple Beth Elohim, P. O. Box 571, Georgetown, SC 29442, to the Sumter County Museum, P. O. Box 1456, Sumter, SC 29151 or to the charity of one's choice.
Online condolences may be sent to www.sumterfunerals.com
Elmore Hill McCreight Funeral Home & Crematory, 221 Broad Street, Sumter, is in charge of the arrangements (803) 775-9386.