Recommend Eugenia's obituary to your friends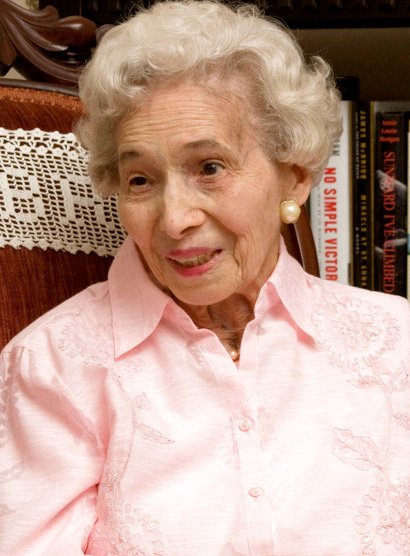 Obituary of Eugenia Mabry
Eugenia "Gene" Bradford Mabry, 104, widow of Buford Stuckey Mabry, Sr., died Monday, March 25, 2019 at Covenant Place.
Born in Columbus, GA, she was the daughter of the late Frank P. Bradford and the late Eugenia Redd Bradford.
Mrs. Mabry was a graduate of the University of Georgia and a member of Kappa Delta Sorority.
She taught school in Columbus, GA until the U.S. entered World War II. Then, she volunteered to serve in the American Red Cross and was attached to the 67th Army Evacuation Hospital in the European Theater. There she met her future husband, Buford, a wounded infantry officer. To view their wonderful "love story" via internet go to American Red Cross Love Story at https://www.youtube.com/watch?v=S2jLSiUaiOk. Recently, Mrs. Mabry received the Quilt of Valor, presented to her by Embrace Hospice in recognition for her service to her country.
Mrs. Mabry, a longtime Sumter resident, was a charter member of Aldersgate United Methodist Church, a member of the DAR, the American Legion Auxiliary, and the Stateburg Literary and Musical Society. She was a retired school teacher who had taught at Alice Drive Elementary School and later, her beloved Wilson Hall.
She is survived by a son, Buford Mabry, Jr. (Betty) of Lexington; two daughters, Eugenia "Gigi" Mabry Huckabee (Eddy) of Manning, and Sarah "Sally" Redd Mabry of Chicago, IL; four grandchildren; and nine great-grandchildren.
The family will receive friends from 1:30 P.M. to 3:00 P.M. Thursday at Aldersgate United Methodist Church.
Funeral Services will follow at 3 P.M. Thursday at Aldersgate United Methodist Church with
Rev. David Day officiating.
Burial will be at the Church of the Holy Cross Cemetery at Stateburg.
Pallbearers will be Wayne Hogan, Bob Young, Jeff Young, Dr. Skip DuRant, Boykin Sanders, T. H. Davis and Wilson McElveen.
In lieu of flowers, memorials may be made to the American Red Cross, 209 Miller Road, Sumter, SC 29150 or to Aldersgate United Methodist Church, 211 Alice Drive, Sumter, SC 29150.
Online condolences may be sent to www.sumterfunerals.com
Elmore Hill McCreight Funeral Home & Crematory, 221 Broad Street, Sumter, is in charge of the arrangements (803) 775-9386.