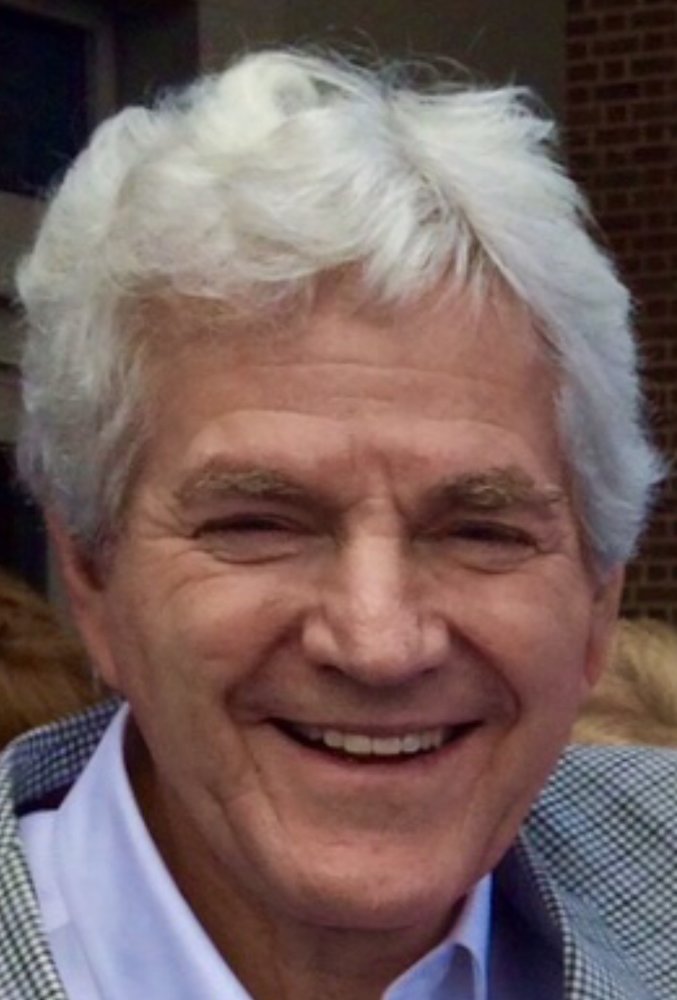 Obituary of Roger Williams Ackerman
Roger Williams Ackerman, beloved husband of Deane Wodis Ackerman, died Monday, September 10, 2018 at his home.
He was the son of the late Emil Ralph Ackerman and Hannah Levy Ackerman. He was born in Wadesboro, N.C. in 1932 but his family moved to his mother's hometown of Bishopville, S. C. when he was an infant. There they resided in his grandparent's home for 4 years. In 1936 the family moved to Wallace, N.C. and there they remained for many years. Roger and his beloved older sister, Pam, were able to thrive in this close-knit small southern town, where he excelled in his school work as well as athletics. Football and baseball were a large part of his youth, and being elected in his senior year as co-captain by his teammates of his school's undefeated football team, along with his best friend, was the highlight of his high school years.
Living in a small town prompted him to reach out to other Jewish youth in the state and in his teens joined The N.C. Association of Jewish Youth. With his natural leadership skills, he made some life-long friends and served as president of that organization for two consecutive years.
As he did in high school, Roger excelled scholastically at The University of North Carolina; graduating Phi Beta Kappa. While there he served as president of his fraternity, was inducted into the prestigious Order of the Old Well and the USAF ROTC Scabbard and Blade Society. After graduation he served on active duty as an officer in the U.S. Air Force, and numerous years thereafter in the Air Force Reserve. He was also a member of the American Legion Post 15.
Following his service duty, he began his business career working for a metal-recycling firm in Goldsboro, N.C, and in 1965 he accepted the offer to become general manager of the Addlestone Co. and moved his family to Sumter. Once here, Roger, along with his wife and children, fell in love with Sumter and its people and knew this was to be home. By 1970 he was able to establish his own business, Ackerman Metals, Inc and the Ackerman Management Company, and later acquired Orangeburg Metal Company in Orangeburg, S.C. and McCabe Scrap Iron and Materials Co. in Galesburg, Ill. Active in his trade organization, he served as president of the southern division and also served a term on its national board of directors.
Devoted to his faith, Roger was an active member of Temple Sinai and served in many capacities, including numerous terms as president of the congregation and in later years he chaired the long range planning committee to provide for care of the Jewish Cemetery and the Temple building, which is on the historic register.
His involvement is the Sumter community covered many areas. He served on the boards of the Sumter Chamber of Commerce, the YMCA, the Sumter Little Theatre, Sumter County Gallery of Art, the Sumter County Cultural Commission, Sumter Industrial Association, and Covenant Place. He served as co-chairman of the 2002-2003 Building Fund for the Sumter County Gallery of Art. In 1997 he was the Sumter YMCA Humanitarian of the Year.
In 1975, along with his wife and oldest daughter Polly in the cast, he took center stage as the lead in "The Music Man'. Throughout the remainder of his life, he was well remembered for that roll and over the years some friends would continue to greet him with that title.
He valued his many years as a member of the Fortnightly Club, a literary club that has been in existence for over 100 years; always enjoying the fellowship and the challenge of creating an interesting and informative paper to present.
He was an active member of Rotary for over 50 years and served the Sumter Rotary Club as president in 1978-79. He was recognized by his club as Rotarian of the Year in 1982 and 2017. In the last years of his life he was made an honorary member by his club. He had the distinction of being named District 7770 Rotarian of the Year in three different decades, probably the only Rotarian ever to be so honored. In 1997 he received Rotary International's Distinguished Service Award; and in 2006 he was recipient of the Service Above Self Award, the highest honor given to an individual Rotarian by Rotary International.
Roger was most appreciative that his fellow Rotarians recognized him as being the founder of The CART Fund (Coins for Alzheimer's Research Trust) which has raised millions of dollars for Alzheimer's research. In over 20 years he was the guest speaker more than 200 times at Rotary club functions in the Carolinas, Georgia, and other states, promoting The CART Fund. He worked tirelessly on all aspects of the Fund. When asked what his hopes were for The CART Fund, he would always reply, "to no longer need it", as that would mean we had found a cure/prevention for Alzheimer's disease. Under his leadership, The CART Fund won the Angel Award, established by the South Carolina Secretary of State, for charities that give a high percentage of the funds they raise, to the cause for which they were established. The CART Fund was cited for giving 100% of all contributions to research. In 2008 he was the recipient of The Order of the Palmetto; South Carolina's highest award given to an individual for excellence in service.
The last years of his life were devoted to preserving Temple Sinai and creating Temple Sinai Jewish History Center. Working along with several other congregation members, the center became a reality and opened to the public in June of 2018 and is now part of The Sumter County Museum complex.
He had a profound love for Sumter and its people; but above all else in his life, his devotion and love for his family were foremost in his mind and heart.
During the last months of his life, Mayor Joe McElveen visited the Ackerman home to present Roger with The Gamecock City Society Award for distinguished and exemplary service to the community.
Surviving are his wife of Sumter; his children, Matthew Ackerman of Flagstff, AZ, Polly Menaker (Steve) of Charlotte, N.C. and Angela Jurs [Tim], of Castalia, Ohio; grandchildren, Noah Menaker, Simon Menaker, and Jasmine Rae Ackerman, and sister-in-law, Lynn Sherman, of Aubrey, Texas. Also nieces and their families.
Memorial services will be held at 3 P.M. Thursday at Temple Sinai on Church Street with Rabbi Sanford Marcus officiating.
Private burial will be held at the Sumter Jewish Cemetery.
The family will receive friends following the memorial service at the Sumter County Museum Heritage Education building in McKenzie Hall and other times at the home.
Honorary Pallbearers will be Johnny Hilton, Jay Schwartz, Hubert Osteen, Harold Rabhan, Seymour Levin, Rand Bailey, Phil Palmer, Chris Caison, Abe Stern, Chuck Fienning, Eddie Kinney, Ray Reich, Dr. Ted Young, Joe Wallace, Jr., Frank Edwards and Billy Prescott.
Memorials may be made to Temple Sinai Jewish History Center, P.O. Box 1673, Sumter, S.C., 29151, The Cart Fund, P.O. Box 1916, Sumter, SC 29151, or Sumter County Gallery of Art, P.O. Box 1316, Sumter, SC 29151.
On-line condolences may be sent to www.sumterfunerals.com
Elmore Hill McCreight Funeral Home & Crematory, 221 Broad Street, Sumter, is in charge of the arrangements (803) 775-9386.