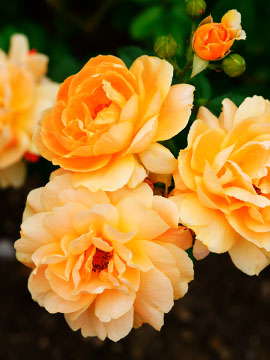 Obituary of Evelyn Rembert
Evelyn Jones Rembert, 93, widow of Marion R. Rembert, Sr., went to be with the Lord, Monday, July 10, 2017.
Born in Sumter, she was a daughter of the late Otis M. Jones and Ethel Stafford Jones Boykin. She was also the step-daughter of the late Roland Boykin.
She was married to the love of her life for 67 years and had two wonderful sons she adored.
Mrs. Rembert was an active member of Grace Baptist Church, the Loyal Sunday School class and the Alderman Bible Study Group. She was a people-person and loved her family and friends. She was an encouragement to those around her. She retired from Keith's of Sumter Dry Goods as buyer of ladies fashions. She loved her work and made many friends through the community while there.
The family would like to thank Dr. Barney Williams, Dr. Andrew Reynolds, and Dr. Kent Cunningham for their dedicated long time care and also her very attentive sisters as well as her caretaker Mrs. Florence Loyd.
Surviving are two sons, Marion R. Rembert, Jr. (Debbie) of Florence and Edward "Eddie" Rembert (Kellye) of Westminster; three sisters, Oree B. McLeod, Jewel B. Gardner and Barbara Ann Ardis; five grandchildren, Melissa Nance (David), Brian Rembert (Megan), Marion "Trip" Rembert, III, David Rembert and April Jackson (Larry); six great-grandchildren, Taelor N. Nance, Christian E. Nance, Royce B. Rembert, Camden S. Rembert, Kelly Ellis Jackson and Carson Jackson; two close nephews, Henry Rembert and Johnny McLeod; two close nieces, Shirley Westerfield and Pam Roberts.
She was preceded in death by two sisters, Mildred B. Roberts and Vivian B. Ratliff; three brothers, Woolard E. Boykin, Roland S. Boykin, Jr. and Murdick O. Jones
.
Graveside services will be held at 11 A.M. Thursday in Hebron Presbyterian Church Cemetery at DuBose Crossroads.
The family will receive friends from 6 to 8 P.M. Wednesday at the Elmore Hill McCreight Funeral Home.
Memorials may be made to Hebron Presbyterian Church Cemetery Fund, in care of Bobby Dubose, 2790 Fenimore Drive, Sumter, SC 29150.
On-line condolences may be sent to www.sumterfunerals.com
Elmore Hill McCreight Funeral Home & Crematory, 221 Broad Street, Sumter, is in charge of the arrangements (803) 775-9386.