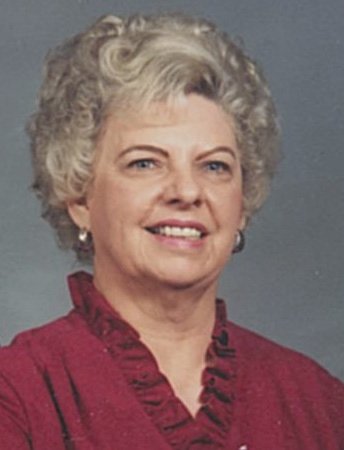 Obituary of Betty Peters
Betty Shires Peters, 89, our beautiful and loving mother passed away December 10, 2017 in the loving hands to our Heavenly Father at the Oak Hill Place (The Summit) in Oak Hill, WV. Her vivacious, loving spirit will always remain a part of our lives.
Born on February 7, 1928, at Ronceverte, WV, she was the daughter of the late Ward A. Shires and Ruby Shaver Shires.
She graduated from Union High School, Union, WV where she was an all-star basketball player and received many awards.
Betty was a member of the Oak Hill Methodist Church and sang in the choir for many years in the 60's. She was an active member in the community serving as a Girl Scout leader and the Jr. Women's Club. She worked in the Fayette County, WV Sheriff's Office (tax department). She and her husband moved to Sumter, SC, in the early 70's where she worked at Blue Ridge Transfer. After retiring, she enjoyed babysitting many children in the community.
Betty always said she has angels that look down on her from heaven who take care of her. Betty helped raise the children of five Sumter families that spanned 30 years of her life: Mr. and Mrs. Walter Dunlap, Brett and Nancy Bishop, John and Susan Brabham, Kyle and Susan Osteen, Curt and Adelaide Spencer.
Betty known as "B" to her Sumter children took care of them not as a job but as her own and in love. Betty was their angel: Walter Dunlap, Andrew, Rodger, and Lucas Bishop, John and Spencer Brabham, Wells and Brown Osteen, Sallie and Ellie Spencer.
Betty was always "dressed to the nines", clothing, jewelry, pocketbook, and shoes always matched. She was like a grandmother to her Sumter families. We celebrated Christmas with Betty, invited her to our Mother's Day luncheons and always took her out to dinner for her birthday.
Brown, at six years old noticed how Betty liked to wear jewelry and told her, "B", when I grow up I'm going to buy you a diamond ring."
Wells, states that "B" played a major role in her life.
Betty always made everything better with butter making our children the best buttery grilled cheese sandwiches ever.
Betty said when she goes to heaven she wants to take care of all the children, now "B" is taking care of all God's children in heaven.
We are blessed to have had Betty in our lives and all the warm memories to cherish. She always said, "I love you honey," and we loved "B" too.
Your Sumter children and families'
She is survived by her daughters, Linda Rounsavall, Burke, VA; Sharon Ann Pugh (Bill), Oak Hill, WV; and David Peters, Tampa, FL. Grandsons Dr. William E. Pugh (Bethany), Oak Hill, WV; and John Rounsavall, Burke, VA; Granddaughter Allison Peters, St. Augustine, FL; Great granddaughters Sarah Catherine Klovanish, St. Augustine, FL; Eva Kate Pugh, Oak Hill, WV; sister, Dixie Major (Tom), Murphy, NC and brother, Bill Shires (Shirley), Clayton, NC.
She was preceded in death by her husband, Louie H. Peters, her son Allen Preston Peters, her Aunt Louise Shires, father-in-law and mother-in-law, Lewis and Willa Peters.
Funeral services will be held at 1 P.M. Saturday December 16th in the Chapel of the Elmore Hill McCreight Funeral Home in Sumter, SC with Rev. Joseph James, Jr. officiating.
The family will greet friends from 12 P.M. to 1 P.M. at the Elmore Hill McCreight Funeral Home.
Burial will be in the Evergreen Memorial Park Cemetery.
The family would love to thank the nurses at the Oak Hill Place for the constant love and attention they bestowed on our mother.