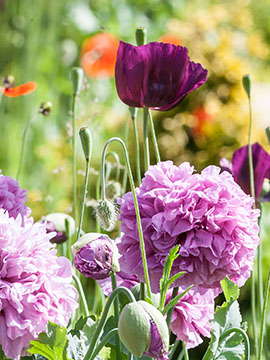 Obituary of Jacqueline Lunan LeMoyne
DALZELL - Jacqueline "Jackie" Lunan LeMoyne, 88, died Tuesday, Oct. 23, 2018, at Palmetto Health Tuomey.
Born in Florence May 23, 1930, she was the daughter of the late John Conroy and Lillian Elizabeth Way Lunan.
Mrs. LeMoyne was a charter member of St. John's United Methodist Church in Sumter and was a retired purchasing agent at Tuomey Hospital.
Surviving are daughters, Reneé L. Langston (Billy) of Dalzell, Bobbi L. Edens (Charles) of Sumter and Cathi L. Walker of Batesburg-Leesville; sister, Doris Lunan Middleton of Charleston; brothers, Bert Lunan of Columbia and David Lunan of Charleston; grandchildren, Tara Langston Eron (Richard), Trent Langston (Wendy), Brienne Edens Oliver (Jeremy), Chad Edens (Allison), Curtis-Lynne Edens, and Zeke and Zane Walker; 11 great-grandchildren; and nieces and nephews.
She was preceded in death by a sister, Patricia Lunan Freeman of Darlington.
Jackie was a sweet, loving and doting mother, grandmother, great- grandmother, sibling and friend. She lit up every room she entered and never met a stranger. Her door—and kitchen—were always open. She was charming, had a truly mischievous sense of humor and was dependably fun to be around. Her family adored her as deeply as she adored them and they are grateful, at this time, to be able to look back on a lifetime of the love, joy and laughter she gave them.
Graveside services will be held at 2 p.m. Sunday at the Sumter Cemetery, with the Rev. Billy Lewis officiating.
Grandsons, a great-grandson and a nephew will serve as pallbearers.
The family will receive friends from 3 p.m. to 5 p.m. Saturday at the home of her daughter, Reneé Langston, 3490 Black River Road, Dalzell.
Memorials may be made to the Carolina Helping Paws Rescue, P.O. Box 855, Sumter, SC 29151 or to Saving Sumter's Strays, 1070 Foxridge Court, Sumter, SC 29150.
Online condolences may be sent to www.sumterfunerals.com
Elmore Hill McCreight Funeral Home and Crematory, 221 Broad Street, Sumter, is in charge of arrangements (803) 775-9386.