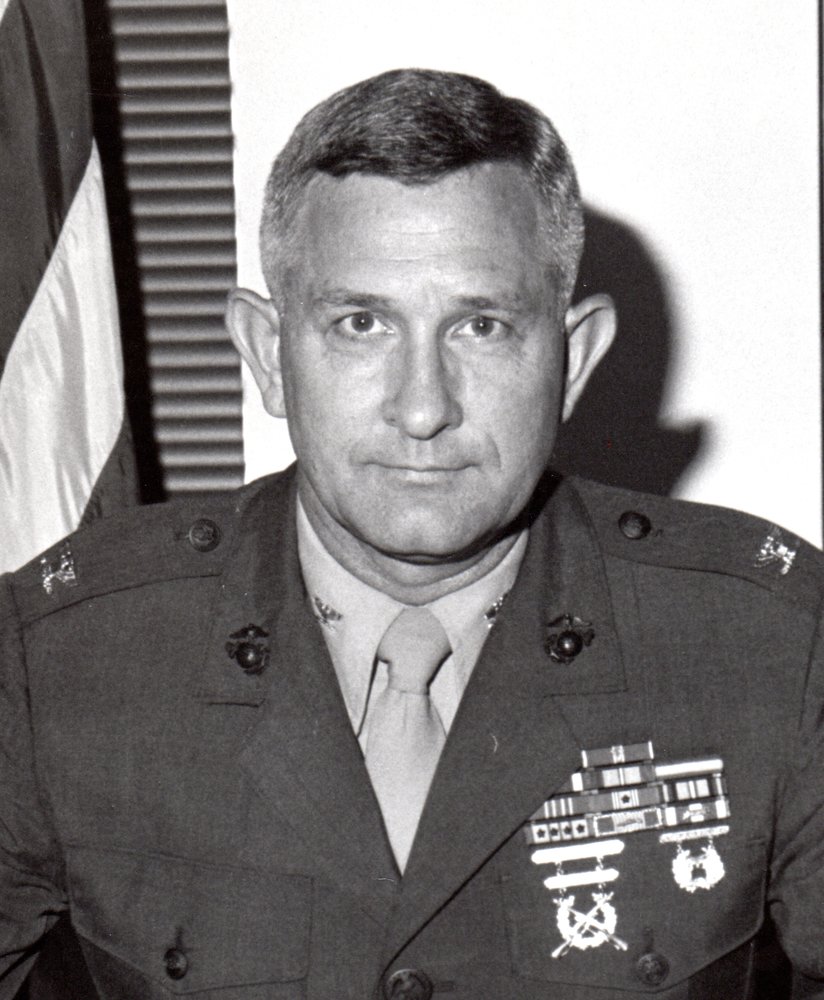 Obituary of Ed Weatherford
Retired Marine Corps Colonel Edwin Gillard Weatherford, 87, husband of Adville Winkles Weatherford, died November 29, 2019.
Born in Greensboro, GA., he was the son of the late Hulsey Cleveland Weatherford and Susie Bytha Eberhart Weatherford. A graduate of Berry College, he later received a Masters degree in Education from the University of Virginia.
During the early part of his 30-year military career, Colonel Weatherford served in a variety of Command and Staff billets in the 1st and 3rd Marine Divisions. These tours included duty as a platoon officer and logistics officer. Other early assignments included tours at Marine Corps Recruit Depot (MCRD), Parris Island, S.C. and at the Marine Corps Supply Center, Albany, GA.
In July 1963, he was assigned as the Inspector/Instructor of the 38th Rifle Company, USMCR, in Montgomery, AL. He held that post until August 1966 when he was selected to attend the Air Command and Staff College, where he was graduated as a "Distinguished Graduate".
After graduation in July 1967, he served for a year in Vietnam where he earned the Bronze Star with Combat V.
In August 1968, he was assigned to the Marine Corps Development and Education Command at Quantico, VA, where he served as Head of the Publications Branch and Editor of the Doctrinal Publications of the Organization, Doctrine, Tactics and Techniques Division.
In June 1972 he served as Academic Supervisor and Assistant Director of the Amphibious Warfare School. From August 1975 to August 1976, Colonel Weatherford served as Executive Officer of the 4th Marine Regiment in the 3rd Marine Division. He was then reassigned to the 6th Marine Corps District in Atlanta, GA where he served alternately as Assistant Director ('76-'78) and Director ('78-'80).
In July 1980, Colonel Weatherford was assigned as chief of staff of the MCRD, Parris Island, SC, where he served until his retirement in June 1984. Colonel Weatherford's personal decorations include the Legion of Merit (2nd Award), Bronze Star Medal with Valor, and the Navy Commendation Medal.
He was a member of Bethel United Methodist Church in Oswego where he was Membership Secretary and a member of the choir.
In addition to his wife, he is survived by sons, Douglas Edwin Weatherford, wife Karen, grandchildren Brent and Steven of Orlando, FL; and Anthony Scott Weatherford, wife Laura, of Savannah, GA, grandchildren Jenna Bass, husband Ryan Bass and great-grandson Sawyer of Long Beach, MS. and Bryan Weatherford, wife Brandyn of Birmingham, AL.
Services will be held Saturday, December 14 at 3 P.M. at Bethel United Methodist Church in Oswego with Rev. Tim Whited and Rev. Mike Henderson officiating. Burial with full military rites will be in the cemetery adjacent to the church.
The family will receive friends from 2 P.M. to 3 P.M. before the service at Bethel United Methodist Church.There will be a reception held following the burial in the Bethel United Methodist Church Family Life Center.
Memorials may be made to the Bethel United Methodist Church Building Fund, 5575 Lodebar Rd, Sumter, SC 29153.
Online condolences may be sent to www.sumterfunerals.com
Elmore Hill McCreight Funeral Home & Crematory, 221 Broad Street, Sumter, is in charge of the arrangements (803) 775-9386.