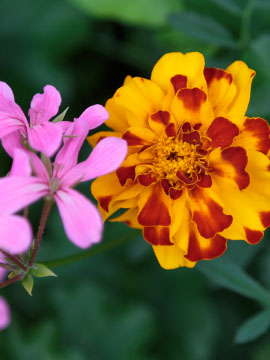 Obituary of Ruth Sprott
Ruth Hill Sprott, 90, beloved wife of J. Mac Sprott of Sumter, entered eternal life and rest on Friday, October 5, 2018, surrounded by her loving family.
Born in Timmonsville, SC, she was the daughter of Rosalie Hill Joye and step-daughter of William Harry Joye. In 1950 she married the love of her life, and together they lived a full and wonderful life for 68 years. She is survived by her husband, her son Rodney McDowell Sprott of Los Angeles, California; her daughter Carol Sprott Jackson of Columbia, SC, and husband Thomas Andrew Jackson; granddaughter Christyn Jackson Rivers of Boone, NC, and grandson Ryan McDowell Jackson and wife Carter Staples Jackson of Atlanta, Georgia; brother Donald Allen Hill and wife Sara Hill of Irmo, SC, along with numerous nieces and nephews. She was predeceased by her brother John Thomas Hill.
Mrs. Sprott was an active member of Trinity United Methodist Church since 1963 and was a graduate of Winthrop College in 1947. Ruth served as a loyal alumnus as a member of the Alumni Board. She also loved serving in School District 17 as a substitute teacher and teaching office assistant classes at Sumter Area Technical College.
Ruth's great joy in life, other than her family, was reading, writing, and teaching, and she left a legacy of teachers and readers in her family. She was known for her thoughtful and caring notecards, as well as her kind and loving gestures and remembrances. She will be greatly missed by all who knew and loved her.
Following a family interment service in Manning, the celebration of life service will be held at 4 PM Tuesday at Trinity United Methodist Church with the Rev. Joseph James, Dr. Reginald Thackston and Rev. Angelia Marshall officiating
The family will receive friends following the memorial service in the church fellowship hall.
Memorials may be made to Trinity United Methodist Church, 226 W. Liberty St , Sumter, SC 29150.
On-line condolences may be sent to www.sumterfunerals.com.
Elmore Hill McCreight Funeral Home and Crematory is in charge. 803-775-9386.